For my ESC for dual motors, will this be a good idea?
Mine broke after 700 meters, but others have had more luck. Performance is capped at 50A (25 per motor), thus the esc is fine for beginners/intermediate riders. IMO not suitable for steep hills…for a mountain board at least.
Im trying to build someting in just one esc for a dual motor, It just seems like proper weird to have two esc/vsec. this one is a two in one looks good but "China " made which I dont really rely on.
There aren't many 2-in-1 ESC solutions out there that have proven to be reliable. That ''diyeboard'' ESC is used in ALLOT of chinese boards, including the Meepo board. If you want to know what to expect, then watch a review on those…essentially, the same ESC is used.
Allot of people are happy with the ESC, as you can see from the thread I linked to. It's just not for power users.
I should just test these out for science
There is this one also that comes in hub motor or brushless settings (Allows for more RPM I guess). https://www.ebay.com/itm/Dual-motors-longboard-skateboard-control-modula-ESC-Substitute-with-remote-/322688412411?var=&hash=item4b21ba6afb:m:mnTgHbWA95Vts7jzZsG0QnA
USED IN THIS VIDEO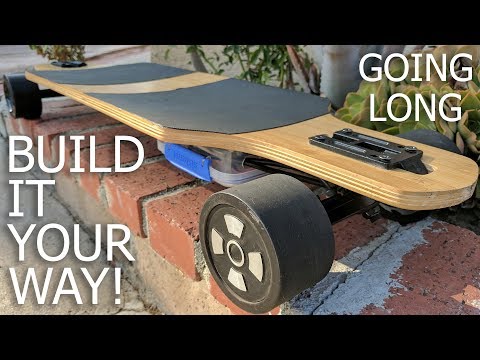 I've been running one for months in a Jet Spud 29 using 10s3p on 97mm flywheels with 15/36 gears. Its usable definitely, but the lack of acceleration/brake curves is very notable. I use it for a quick commuter board but I run my dual FocBox board when I really want to ride.
TL:DR This ESC is ok for a short hop/commuter board, not so much for fun.
Agreed. I was testing the board and you really have to go slowly on the acceleration on the beginner mode. On the fast mode, the acceleration is a dad bit more jerky. The breaks you really have to ease on or else you will be flying off. Pretty decent controller for the price.
Have had one accelerate on its on. Would not respond to transmitter. Jumped off. Have since mounted it to a big heat sink and havent had that issue again but agree with your comment about throttle curves . Even tried changing from 200kv motors to 150kv racestars with no improvement. Have a couple of jacobs hubs I might try them on.