@Andy87, you're everywhere! Thanks for this!
don´t get scarry, i´m not following you
Thats exactly what someone who was following me would say
Any motor would be good if u do some preparations like conformal coating and etc stuff
But where to get good Conformal coating in Europe? And what would need conforming coating? Just the Hall sensor? Or even the windings?
@Kug3lis you skate year round have you had to do any special motor preparations on your all weather builds used in London? I have been running my TB 190kv 6374 (sensored Foc)in all conditions and they get wet and have either been lucky or the probability of an issue is small. Would enclosing or shielding the motors be enough additional protection… Maybe some can research some 3d printable options or @mmaner can design one to go with all the other parts he has on Thingiverse.
The problem with shields is if you make one that keeps the water out, your keeping the heat in. If you make just a bottom half shield to protect from road moisture, rain can still get in the top and vice-versa.
I can model you one, I just don't think they are very useful for the same reason I don't use belt covers anymore, creates more problems than it solves. I actually got more rocks lodged in belts with them without.
This is another option http://www.gripstuds.com/ that I have seen. Looks like a sound prduct except the cost is about US dollar per stud. They are far less labor intensive to install but at $40 dollars per tyre is pricey when the method I describe gets the same result at $7 dollars a tire and the tire depth penetration is less.
Kevin
@mmaner agree as I stated I have not ran into any issues and do run in the rain and snow. @mmaner maybe you could share some of the battery power vs temp curves you shared with me for the communities benefit. I always store my boards indoors at room temp and my rides are 5 miles or less typically so I may put a thermal couple in the case at the battery to see how much temp drop happens with low outside temps 32F or 0C.
Its all just stuff I gathered from here, so its not new but if it helps to put it all in one place, Im happy too.
https://www.lithiumpros.com/how-does-cold-weather-affect-lithium-batteries/ https://smartercharger.com/2010/10/how-temperature-can-affect-your-battery/
Do you know of anyone that has taken temp data at the battery point and plotted a curve of actual battery temp to ride time and outside temp. This is something I could create a model for approximation purposes knowing case design and battery design will have an impact. When I was a kid on my first car installed the cardboard in front of the radiator to get heat when conditions were very cold.
I dont. I only have to deal with a couple of weeks a year of really cold weather (below freezing) so I've not worried about it too much. I have noticed range decreasing at 40f vs 80f, but I couldn't say with any reliability how much…maybe 25%?
How would you suggest getting battery temp data can I hook it into a Focbox for reporting?
I don't know, I would imagine you would need to log it outside of the VESC and then corelate the data.
Ok…maybe someone could provide an elegant way to do this other than a thermal couple connected to a Fluke data logger would like to get real data of the effects of low outside temps and battery power to model or can I just use the data coming out of the vesc that is logged via BT app. Is this a reliable method of measuring battery voltage and available power?
Well this is my first video ever and took it in one shot so please be kind… @Andy87 hope this helps.
How to make your own DIY Studded ICE and SNOW tires / tyres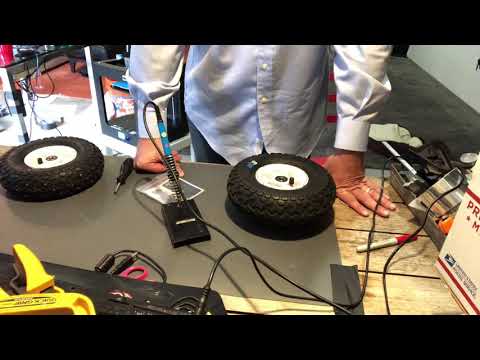 Kevin
Do you use the temp sensor on the motors? Even if yes, you could use one FOCBOX to log the battery and the other to log one motor, I think metrpro can export the data from both to the web interface
Thanks I believe there is some impact as @mmaner has described but most people will be starting out at room temp…would like to see how quick the battery drops in temp and available power. I believe this would only be a concern if you are pushing the range limits of your setup past 75% of normal conditions capacity.
I also am waiting on info from @psychotiller to see the possibility of doing studs on the tires he provides with his six shooters. Would like to make a set and run tests…
Was also considering using a small custom Dremel tool tip that would create the slit and then pocket as this would be nice to cut down on fumes…Maybe someone could add thoughts to this idea as well?