Hey bro… yeah that was a lot of fun. It was awhile ago but let me see if I can remember a few things:
It was a GoKart track meant for Sodi GT5 Indoor Racing Karts based-off a racing designed chassis equipped with 6.5 HP Honda Engines, slick racing tires and hydraulic brakes.

The hairpin turns were killer and some riders were at an advantage depending on stance.

Carvon EVO was a little too big for this kind of track, a Jet Spud with some softer bushings was probably ideal.

Weight and height didn't have a huge effect on outcome more than experience and confidence.

It was fun doing timed sessions and the organization made it "feel" official.

It was competitive but overall everyone just had a good time because we never did an ESK8 race before. Even the owners and GoKart regulars were interested in watching us.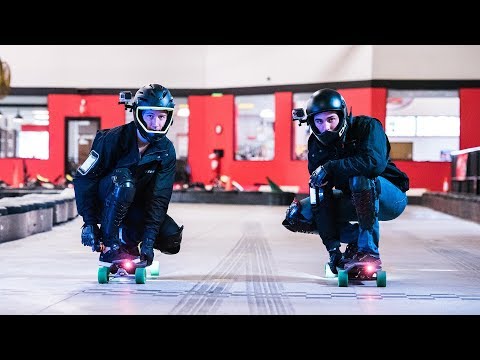 Kart track makes a great venue spot. Speeds don't get crazy and the course, techinal. Definitely equalizes the boards and makes a riders track where maintaining momentum is King. The 42" wheelbase (106cm) raceboard steering adjusts well to kart track racing. Park track racing? I could have a sauce ready for October.
@MoeStooge you got a shred stick for every occasion…
@RunPlayBack & @MoeStooge how about slippage? Reduced speeds, less cornering grip…all seems like it would be a difficult condition to race
The Kart track I raced on in Colorado was an epoxy overlay with an abrasive grit like surface. Urethane had surprisingly decent grip. Some kart tracks I've been on spray a syrup to tack up the track while others leave a polished concrete slick surface. It just depends on the track.
The place I thinking of … (and you know what Im talking about) has smooth floors and wood…thats what I am working on at the moment…
If racetrack is too slick… it may end up looking like the keystone cops
on Esk8…although funny…not fun for the racers