Alan, We will get you some new outwheels. Just a matter of them coming in.
Thanks Bara! In the meanwhile, don't you have any old formula just to keep riding my Raptor?
Nothing as of right now but Soon though.
I've just been contacted by Enertion Support they confirmed they just got the wheels in with new formula, this is awesome, they are shipping right away.
Now I have this other issue, has anyone experienced this?, anything I could tight to avoid it?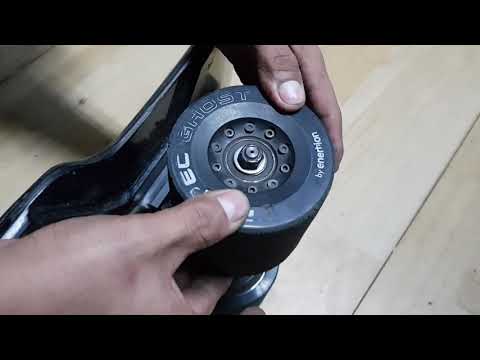 Ok. Can't ride the Raptor anymore.
I had an R2 hub issue too at around 30mph last night. Wheel totally locked up. Almost took me out of the game.
Have you opened the motor up to see if the bearing moved out of place by chance?
No I haven't, but seeing this it might be a good idea
Definitely would dude. This is a brand new motor. Only put 60 miles on it. Ugh…
WTF man are you serious.
That crazy man I can only imagine how you feel right now. You have gone through so much shit.
Pretty much. I just want them to prove me wrong and send me parts that work for a while so I can actually enjoy this board. It's getting old. Not to mention its coming up on 2 years since I purchased the board and out of the two R2's I've owned, I've only clicked a couple hundred miles between the two of them.
My DIY has been running everyday for 2 years. It's my transportation and have clocked 5-6k one it. Still running strong.
CarvOn was somewhat like that too until I sent them in for repair. I love how hub motor's selling point is no maintenance, less failures and it seem like we are constantly dealing with issues that are much harder to fix than our belt boards
@barajabali @onloop any update on the outter wheels? My Raptor 2 is out of service since a couple of months ago because of them
Hey Alan,
We just recently sent out an update via email that they are back in stock. Your order has likely already been fufilled, I will however follow up on it to make sure.
Do the wheels have now a better urethane formula or do they still crack?
The new urethane formula is much better then previous. They're not perfect but progress takes time!
New urethane does not crack
I got 8 of the front 97mm wheels and 4 of the cores were so off centre in the urethane that they wobbled so much that they were unrideable. There was up to 5mm deviation as they rotated! I am still waiting to hear back from enertion @CarlCollins @carl.1 ??? The urethane on 4 wheels that I was able to mount seems to be good so far but I have to put a few more kms on them to find out for sure. I hope the 90's and 100's that I haven't received yet don't have the same problem.
We will happily replace those for you friend.
Please shoot me a PM with your order number and I'll get you sorted
@Boxer86 We are already working on it, will arrange new ones next week, I will update you about the situation via email tomorrow