Very nice job bro. Your a Master Builder now.
How much does it actually weight? Have you had the chance to get that measured? Nice, clean and portable build man!
That's what I was wondering the same because I get bite with no riser on 70mm flashbacks, and 83 flywheels with a 1/2" riser in 50 degree calibers
I think maybe he is going to discover it now or maybe not
I love his enclosure work sad that my projects doenst fit his enclosures
Pretty sure he'll get wheelbite. I have 80mm Kegel's with 1/4 riser and caliber 44 with harder duro bushings and just barely avoid wheelbite.
Nice little board
How stable it is? And how fast can you go? Asking that because I made my board 33" and even being bigger I can't get it over 34km/h without it being sketchy to ride, not enjoyable
Everything is in the trucks man
bushings angles and etc
Hey guys, I just came from the test ride.
First off, no wheel bite, my trucks are not tight at all, it has great turning ratio at low speeds, more than my darth maul, maybe like my Vanguard on Ronins however at high speed I was really impressed by this deck, it's more stable than my Trampa and I ride 55km/hr on it, I need more riding time to get to full speed and feel it.
BTW I lost my Caliber original bushings so I had to use some spare Venoms SHR Double Barrel 91a, I don't think this could have something to do with the no wheel bite scenario, but I can lift two side wheels just balancing all my body to one side.
Here you can see what I'm talking about, no wheelbite on 107mm that's amazing, you can see it does turns pretty good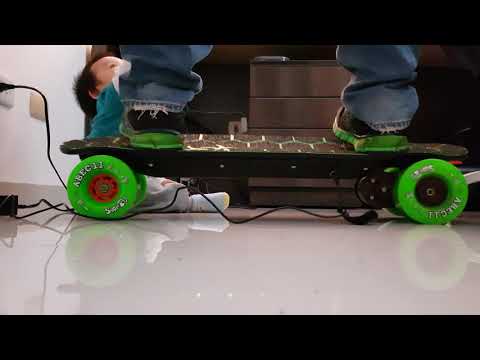 Yeah there's some science behind it, the reason is I'd have ran out of red wire if I had used only black
Haha! I stand corrected. Cute kid, I think he wants to ride it.
Epic build. looking awesome… Saw it on reddit before and came here to see if it was you… I recognized your workshop from the pics
Did you paint the deck green or is that a foam pad?
Here's what I was talking about.
Adding risers only increases leverage… So even with bigger wheels I get some nice bite
I guess it may be different on electric. But slides downhill I go full lean quite a bit. (You can see paint is worn away in the wells from bite)
I really appreciate how your shoes often match your boards
I'm curious about your painting techniques as well. You're light years beyond me and most others on the forum.
It's Glassurit 55 line car paint with matte clearcoat. It's pretty high quality car paint mainly used on Porsche and Audis
I prepared the perfect color match using the Abec 107mm as reference.
how do u get the fine detail cuts in the grip tape?
I printed the Biohazard sign and sticked it on the back of the vicious grip tape, then cutted it with a sharp cutter over a wooden base