Hello!
I was hoping someone on the forums might be able to help me with a problem I am experiencing with one of my focbox's.
Originally the problem I had was a drv fault, I got that repaired locally and ever since then when plugged in the focbox does the below, it is also not being recognized via usb: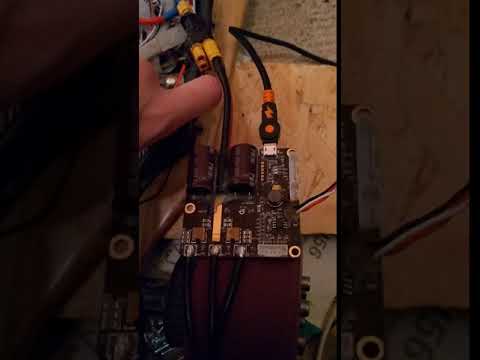 I contacted Enertion support who suggested that the problem was with caused by the FOCBOX missing the bootloader, so I've followed this tutorial combined with information in this thread about the port differences which seemed to all work well. The last information from the ST-Link Utility was:
13:41:02 : [BLDC_4_Bootloader.hex] opened successfully. Address Ranges [0x080E0000 0x080E01AC] [0x080E01B0 0x080E10A0] 13:41:02 : [BLDC_4_Bootloader.hex] checksum : 0x00055E07 13:41:46 : Memory programmed in 3s and 438ms. 13:41:46 : Verification…OK 13:41:46 : Programmed memory Checksum: 0x00055E07 13:42:30 : Disconnected from device.
But this hasn't changed the behavior, when powered I still get the weird light pattern and it is not recognized via USB.
It's worth noting that all 3 status LED's are lighting up when connected via ST-LINK so they are working fine.
Does anyone have any idea what's going wrong with the FOCBOX and how I might be able to fix it?
Thanks in advance, Liam