Hey e-riders,
Maybe some want to try big chain on their Haggyboard Bergmeister AT wheels ?
Or just pipe up and suggest loudly the beast grunting aggressively?
Anyway, I just want to share a little how to set up a chain drive kit on Bgm wheel for around 20/25€ (ISO 06B here and if you get a 3D printer).
I order all the transmission part here
tridistribution
Summary list :
---
Print the drill-helper and wheels adapter.
---
Drill the wheels sprocket with the helper for the m5 screw from the Bgm rim and around 12mm for the center. This is the way I choose :
---
Drill the motor sprocket with one (or more) hole threaded m4, to lock it on the shaft.
---
Put the bearing in place and set the wheel sprocket, adapter and rims together with a washer between WS and Adaptor.
---
Put the washer on the truck shaft and lock the wheel to perfectly aligned the motor sprocket with the wheel sprocket.
---
Make a blank set-up and take the length of chain needed, according to your motor mount and ratio. Then cut it to the right length.
---
make it spin by hand, then blank motorized test and ride test!
---
8.Tension for chain = no tension, like belt it needs a little (good) loosening but not to much. The chain will relax a little bit as you go along, but a bit more at the beginning.
Then enjoy the loud sound and no-skipping transmission even wet or under snow, mud etc. with high torque acceleration or braking!
Not really my case here (no real torque) but it's fun to ride it anywhere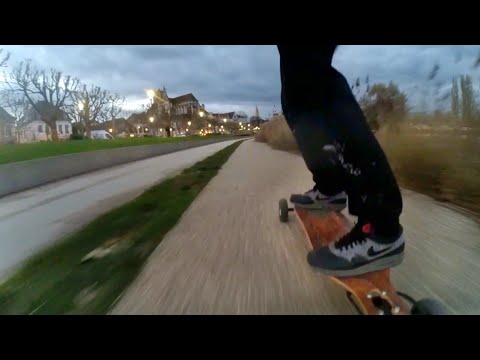 Thanks to all
PS : version for Evolve Superstar truck for now, I will provide the same for TB218 soon