Anyone else drooling over these photos? Trying to figure out what he has going on there but it looks awesome!
I think I read somewhere there's a 12s6p battery packed into that thing!
I guess he uses his standard deck and Trampa trucks with angled risers. Looks like the perfect city commuter: short and (hopefully) not too heavy while giving you the smooth ride only pneumatics can do.
Tell us more @unik
i bought some freebord bindings to try them on a trampa mountainboard, i will publish my opinion when i will receive them :))
I already have a set of freebord bindings attached to my short ride. Its tricky and doesn't let me bail as fast or clean as I would like to. With pnuematics though I think I would feel soooo much better and smooth. Motivation for sure.
I think psychotillers new 6" billet roadie wheels, or perhaps limited edition Enertion 5" pnuematics would look great on that. Simply because it looks strange being a short board that's that high off the ground. I think trampa only do 7 ~ 9" wheels (but they're working on a 6" tyre and a 125mm skate type rubber one which'll also look awesome)
hehe ! thanks guys / okp here.
I did that for fun. Got this project for like one year in my mind but didn't have time to work on it.
It's a 12S6P / 66T / 15T / 168kv / Dual VESC
3D printed enclosure / Carbon Fiber blue
Custom AL7075 risers, custom short mounts for Trampa Vertigo (will be making a few also on MBS Matrix II if there's any interest in a group buy)
Sorry for the (genuine) hooks, been riding that for several years and I see that it has inspired some people here and there; these are freebord, but also got custom 3D printed mounts that were not finished.
That's just insanity ! thanks for the love. Did a quick edit yesterday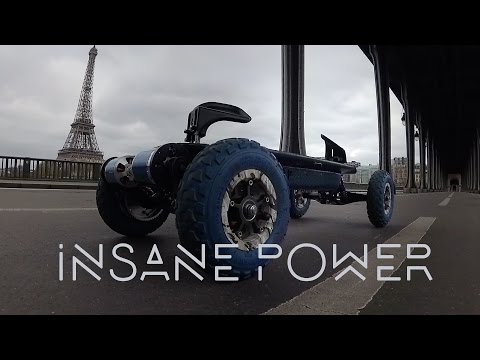 I will be pulling some 7 trampa slick wheels on it too. Got some on my bench. Just ordered two 148kv to see if any difference.
Great to see other builds like this
Very nice work!
Here's my mine:
Can you post up some pricing so those people interested can get an idea on what kind of budget they need?
sure; If I have time I will even post a build thread !
That would be excellent
Thanks @unik
as said on the chat, if there's any interest I will probably do a group buy on the AL7075 short mounts for Trampa and 35° riser + short mounts for MBS Matrix PRO trucks … and also the 66T wheel pulleys.
I'm certainly interested!
Interested, but I was thinking these with kegels or abecs.
why don't you put Calibers with Kegel or ABEC11
Lol not all of us follow the chat…first I heard of it…good news
I did, but these are much more cooler than calibers.